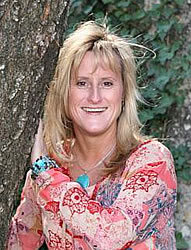 Donna Rader has been in business since 1990. She holds a Bachelor of Science Degree in Health and Human Services, a California PTA license and a National Certification in Therapeutic Massage & Bodywork through The National Certification Board for Therapeutic Massage and Bodywork. She is board certified in Manual Lymphatic Drainage/Complete Decongestive Therapy with the Lymphology Association of North America (LANA) and The Academy of Lymphatic Studies. She also attended the Thai massage school Shivagahomarpaj - The Old Medicine Hospital in Cheng Mai, Thailand.
Donna has been a speaker at the Sutter Cancer Center in Sacramento, CA, on the subject of lymphedema, educating patients and families of breast cancer, hysterectomy, abdominal surgeries, and prostate cancer who are at risk for lymphedema. She started a lymphedema program there in 2000. She has treated lymphedema patients in El Dorado County Hospice and has been a speaker to the hospice staff educating them on Lymphedema.
Donna's background includes studying and working with individuals in a holistic hands-on approach for more than 20 years. Her second decade of life was focused on competitive gymnastics where she competed in State events and trained 25-30 hrs. per week. She has studied and practiced core training, plyometrics, stretching and strength training ever since she was a child. She studied with an Austrian gymnastic coach, with initial teachings from the great Jack LaLanne. She studied and became proficient creating and teaching the mindset that is needed as a gymnast or an athlete, and to recover from an injury.
She has worked extensively in orthopedic physical therapy settings, including outpatient clinics for sports, workmen compensation clients and orthopedics. She has also worked in the hospital outpatient setting; treating pre- and post surgical patients, neurological patients and overall orthopedic patients, wound care and lymphedema patients. She was supervisor of a 15-person staff of an outpatient- wound care team responsible for wound care, speech, occupational and physical therapies.
A bodywork session with Donna comes from a holistic approach. She works with whole person; emotionally, physically, spiritually, mentally and nutritionally, when applicable. The session with Donna may or may not encompass all of the physical body each time, depending on the focus and need of the individual.
Her approach can be passive and gentle working with the client's breathing and comfort level, facilitating the individual throughout the session with visualizations, words or colors. This may be used for stress and awareness, or for new clients.
Her orthopedic sessions integrate techniques from around the globe utilizing many osteopathic and manual techniques. This approach is more aggressive and utilizes multiple positions. She also works with the abdominal visceral area for the diaphragm, colon, and lymphatic organs. This is a therapeutic session and the results last weeks to months to years; along with home stretches or core work. It is a combined effort with the client and Donna. The relaxation and relief are generally experienced after the session. She will instruct you on specific stretches or exercises that address the particular needs of your body, should you desire.
Discussions about health and lifestyle choices are addressed to empower the person as much as possible. She may use visualization, or energy work to facilitate the person to a deeper state of relaxation or to be totally present in the session enhancing the integration of the mind-body awareness. Specific breath work may be facilitated to release any holding patterns or stress in the body.
Young Living Essential Oils
are used with each session to purify the body and mind. These are Therapeutic European Grade medicinal essential oils. Essential oils raise the frequency in the body and are high in oxygenation; more so than food, herbs or vitamins.
The client's needs and goals are especially important; together we can achieve your highest potential and FEEL AND LIVE LIFE AT A HIGHER FREQUENCY.
Donna has worked with individuals for years designing personal fitness routines. This helps you balance your body so that you can perform at your optimum, or play and do whatever you desire. She can go to your gym with you (locally) or set up a program at her office.